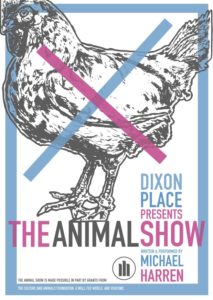 Michael Harren
27
Oct
2016
New York, New York
Details
Time
: 7:30
Venue
: Dixon Place
Address
: 161A Chrystie Street, between Rivington and Delancey.
State
: New York
Phone
: 212-219-0736
Contact Website
:
http://dixonplace.org
Composer-performer Michael Harren's multi-media performance, The Animal Show, blends humor with candor to convey the importance of keeping all animals safe from harm. Through stories and music from his residency at Tamerlaine Farm Animal Sanctuary, "The Animal Show" takes the audience on a ride that will inspire us to think differently about our relationships with all kinds of animals.
Direction: Adam Fitzgerald
Keyboards and electronics: Michael Harren
Violin: Gabe Smith
Violin: Brian L Thompson
Viola: David Packer
Cello: Leah Coloff
Graphic Design: Scott Spitz
The Animal Show is made possible in part by grants from The Culture and Animals Foundation, A Well Fed World, and Vegfund.
These kind individuals have also financially supported the show: Sarah Allen, Joy Askew, Becca Blau, Joel Capolongo, Melissa Centoni, Ethan Ciment and Michael Suchman, Charlene Cerridwen, Laura Gardner, Dustin Harder, James Harren, Daniel James, Jim and Carolyn Johnson, Terry Jones, Jessica Mahady, Tom O'Connor, Tim Reid, Rose Saxe, Jasmin Singer and Mariann Sullivan, Evan Tasch, Shawn Thorpe, and seven anonymous donors.