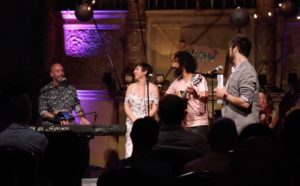 12
Jun
2019
New York, NY
Details
Time : 8:00
Venue : Judson Memorial Church
Address : 55 Washington Square South
State : NY
Zip : 10012

I'm celebrating my 50th birthday with the first in a new series of shows at my beloved Judson Memorial Church! I'll perform some new music, old favorites, covers, tell some stories, and introduce you to a crew of special guest artists including Kiirstin Marilyn and Brett Gleason!

Musicians:
Viola: Brian L Thompson
Cello: Leah Coloff
Percussion: Jamie Robinson

Food: Tere Fox from Rockin' Raw!

$10 suggested donation at the door to support Judson Arts.