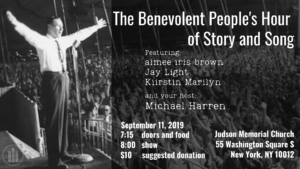 The Benevolent People's Hour of Story and Song
11
Sep
2019
New York, New York
Details
Time : 7:15
Venue : Judson Memorial Church
Address : 55 Washington Square S
State : New York
Zip : 10012

In this quarterly performance series, host Michael Harren performs original music, stories, covers, and introduces you to guests like performance artist aimee iris brown, rapper and DJ Jay Light, and singer Kiirstin Marilyn. $10 suggested donation at the door, but pay whatever you can afford. Proceeds go to Judson Memorial Church – New York City. Oh, and there will be food, too, courtesy of Rockin Raw' and some other kind individuals!