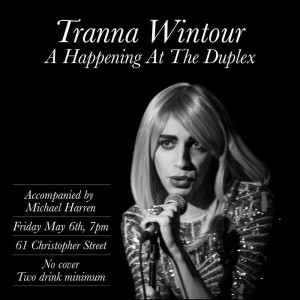 Tranna Wintour
06
May
2016
New York, NY
Free
Details
Time
: 7:00PM
Venue
: The Duplex
Address
: 61 Christopher Street
State
: NY
Zip
: 10014
Phone
: (212) 255-5438
Contact Website
:
http://www.theduplex.com/site/
One woman. One night. Come see Canada's most glamorous comedienne in an intimate, provocative, and hilarious one-woman show that will leave you breathless and sexually confused. Accompanied by New York City legend in the making, Michael Harren, on piano.
TRANNA WINTOUR is an optimistic, spiritual, happy, raunchy, pop-culture-obsessed, fashion-hungry, transgender comedienne. In just a short amount of time Tranna has taken the comedy world by storm. She recently made her Just For Laughs debut and was a competitor in Sirius XM's Top Comic contest two years running. Her one-woman show, TRANTASY, garnered rave reviews and packed houses in the Montreal Fringe Festival. Her work has received the attention of international publications: she's been profiled in The Daily Front Row (New York City's official Fashion Week magazine), the UK's Daily Telegraph, and the Montreal Gazette, which named her one of the city's 20 hottest people. Tranna has been described by legendary comedienne, Sandra Bernhard, as "a candle in the window on a cold, dark winter's night." And Tranna shines that light wherever she performs.