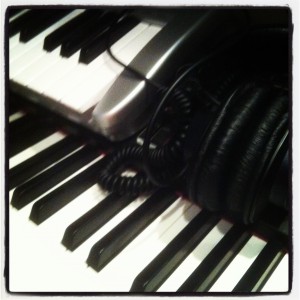 Though my activity here has been sparse, my creative life has been steadily blossoming. I'm happy to say that my free time has been filled up with more creating and less Judge Judy-ing. I miss her, but even she would want it this way. Here's what's up:
On Monday, I head back to Texas to remount Billy Bishop Goes To War at Unity Theater in Brenham. When I left Texas, I often said the main thing I was going to miss was Unity Theater, such a lovely energy there and my favorite place to work in Texas. I love this show, because I get to do more than just play the piano, it's an interesting take on how war affects an individual, and it is also the show that introduced me to my dear friend Jim Johnson (you should check out his work at AccentHelp if you haven't already). I'm so excited to be on this stage I love with a friend I love doing a show that I love. Come see it, Texans!
I just finished composing a piece of music for a short film. I don't really have any information to share yet, other than the fact that I was invited to the project by my friend Greg McGoon and it has been an absolute pleasure working with him. I can share that it is my first project that I created from beginning to end with Ableton Live and I desperately want to lay this application down by the fire and make sweet love to it. I feel so inspired by how easy it is to use how it facilitates experimentation and enables me to quickly put things in my head into the computer and shuffle bits around and…and…and..and. LOVE. To think I have only just begun to learn everything it can do…
Victoria Libertore has invited me to perform my piece "Shadowing" at Dixon Place on April 12th, which blows my mind with excitement. It's a seven minute piece which is a chapter of a full length piece that is in the works. This is a brand new (to me) way of performing and writing in which I am combining original music and sound with spoken word.I'd love to have your support at this performance, as I move forward with this stuff, it will be great to have feedback from the outside world.
Finally, it's snowing here in Brooklyn! I love the snow and I'm happy mother nature got one storm in for me before I headed off to Texas.
Happy New Year!