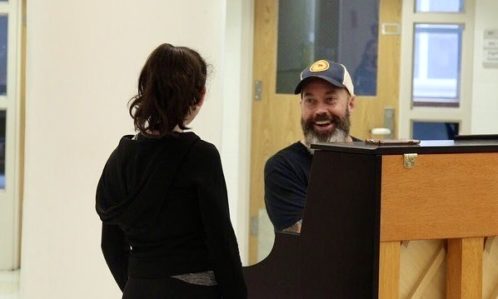 In addition to my work as a composer and pianist, I have been teaching piano and group music classes to kids and adults for nearly twenty years! My students get a strong foundation in music theory while working toward their individual goals at the piano.
Like many teachers, I recently transitioned my students online. It was a daunting experience at first, but the challenge has enhanced my teaching and given me a new excitement for the fact that I can now reach students all over the world!
Please feel free to contact me for more information about studying with me online or here in Brooklyn when it is safe to do so! More about my teaching background can be found below.
Michael studied Piano Performance and Music Composition at the University of Houston and with Dr. Robert Abramson at the Dalcroze Institute at The Juilliard School. He has extensive knowledge of the First Steps in Music/Conversational Solfege method developed by Dr. John Feierabend, and studied the Montessori Music Curriculum with Marcia Perez at The Mater Amoris Montessori School in Ashton, Maryland. He has been teaching music to children and adults for more than a decade.