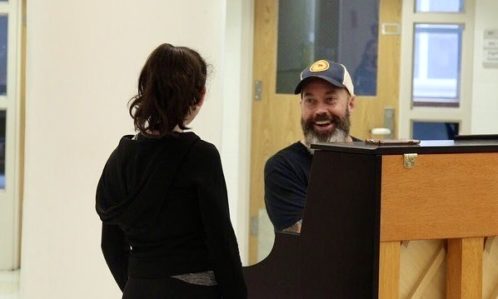 In addition to my work as a composer and pianist, I have been teaching piano and group music classes to kids and adults for nearly twenty years! My students get a strong foundation in music theory while working toward their individual goals at the piano.
Like many teachers, I recently transitioned my students online. It was a daunting experience at first, but the challenge has enhanced my teaching and given me a new excitement for the fact that I can now reach students all over the world! Each of my students receives a free membership on Musico which enables increased engagement and collaboration during lessons and practice time.
Michael studied Piano Performance and Music Composition at the University of Houston and with Dr. Robert Abramson at the Dalcroze Institute at The Juilliard School. He has extensive knowledge of the First Steps in Music/Conversational Solfege method developed by Dr. John Feierabend, and studied the Montessori Music Curriculum with Marcia Perez at The Mater Amoris Montessori School in Ashton, Maryland. He has been teaching music to children and adults for more than a decade.
Testimonials
"My kids have learned so much and they love Michael! He has been teaching them piano for over 9 years now. Since March their lessons have been over Zoom and this is going really well too! We can't recommend Michael enough!"

Katia H.
"Michael is our friendly neighborhood musical rockstar! Since 2008, Michael has taught weekly music classes to our preschoolers at the Olive Treehouse Group. Through a combination of instrument exploration, singing and storytelling, Michael infuses basic music theory and exposure to rhythm and beat into each class. The children walk away happy and energized, all while having their early relationship to music bolstered."

Ashley Sobel; Executive Director, Olive Treehouse Group
"I've had the great privilege of working alongside Michael for the last 10 years as our vocal coach and musical director here at The Stage Theater School. Michael has an incredible way with our students, always making them laugh and finding a way to make teaching fun. Our students thrive under his guidance! So many times when our students reenroll for a new year, the first question they ask me is "Is Mr. Michael teaching my class!?" I have no doubt that the success and popularity of our program has been in large part, due to Michael and his incredible talents, enthusiasm and boundless energy.

Beth Kent; Founder, The Stage Theater School
---
Piano lesson rates for 2021-2022 school year:
30 minutes / $55
45 minutes / $75
60 minutes / $90