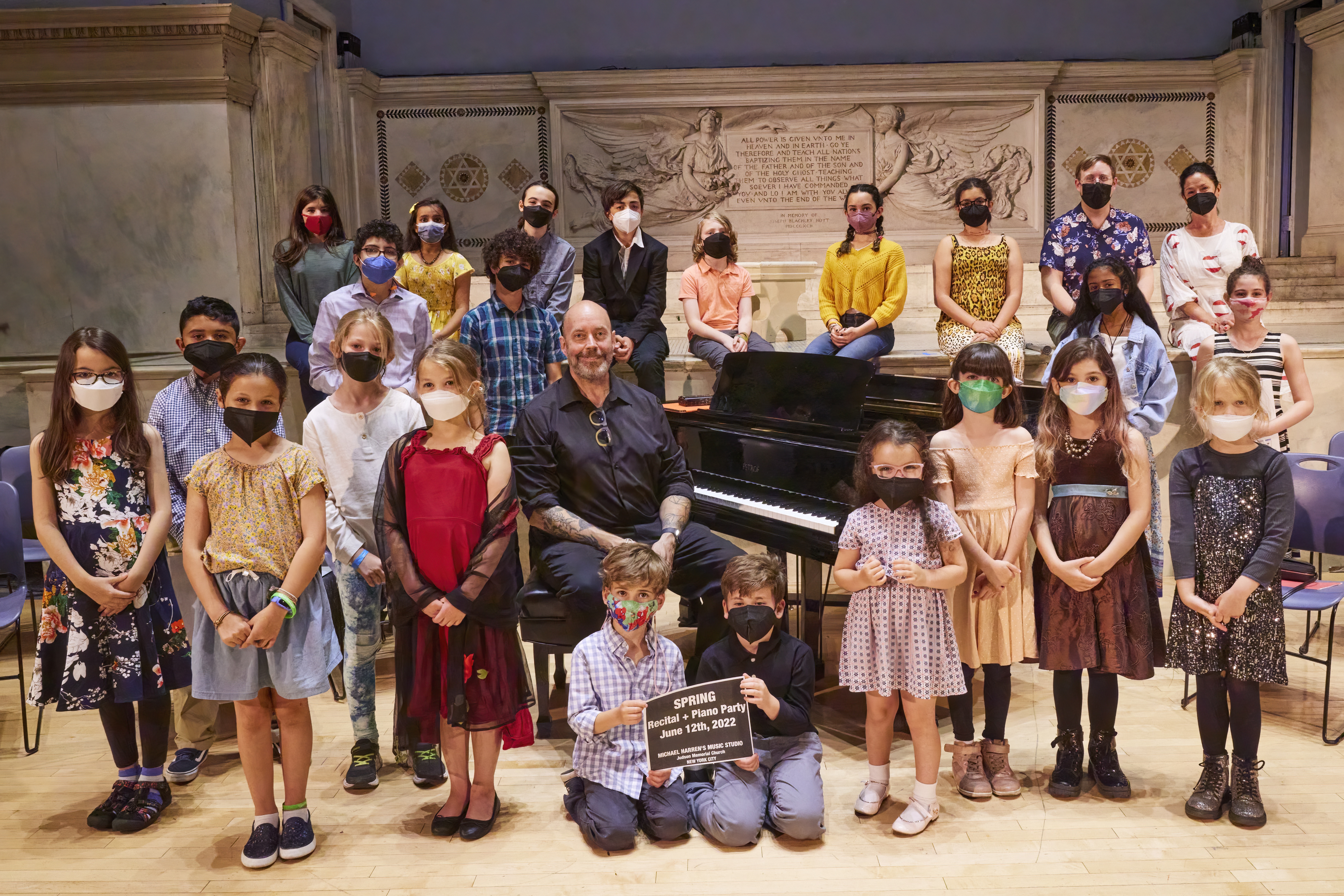 MICHAEL HARREN PIANO STUDIO POLICY
2022-2023
Teacher's Responsibilities
My responsibility to the student is to provide an atmosphere for learning and a well-balanced musical education. Each student will have the personal attention and respect necessary to develop their individual talents. I will guide each student toward musical independence through a balanced program of theory, technique, and repertoire.
Parent's Responsibility
Parents are encouraged to support and facilitate regular practice on a suitable instrument. For the first year, a student may practice on a 61-key keyboard. After the first year, I strongly suggest an acoustic piano or a full sized keyboard with 88 weighted keys, pedal, and a bench of the correct height. Additionally, parents are responsible for purchasing new books, sheet music, and other materials for the student as needed.
Student's Responsibility
Students are expected to practice daily, keep track of assignments, and maintain a respectful attitude. I recommend that fingernails be kept short to allow correct finger movement and comfortable playing. Lesson notes will be added to My Music Staff and emailed to the student.
Recitals
There will be one recital at the end of each semester, one in January and one in June. Students are strongly encouraged to perform in the recitals and there will be a $30 fee per family to help cover the cost of rental for the venue. The dates will be announced later in the school year.
My Music Staff
Scheduling, billing, and student assignments are all handled through My Music Staff which features a student portal granting access to view scheduled lessons, attendance, payments, lesson reminders, and more. You will receive a separate email with instructions to create an account and log in to the portal.
Calendar and Tuition
Monthly tuition is the cost of 33 lessons per year divided by 10 for equal monthly payments from September to June. Two extra free lessons have been added to the calendar in lieu of make-ups for missed lessons.
Tuition amounts are as follows:
thirty-five 30 minute lessons: $195.00  monthly 
thirty-five 45 minute lessons: $274.00  monthly
thirty-five 60 minute lessons: $356.00  monthly
Tuition is accepted only through My Music Staff via a button on your monthly invoice. I offer a $10 discount per month if you sign up for auto pay. Payment is due by the 1st of each month.
The schedule for the year can be found here.
Cancellations
My teaching schedule is very busy so making up lessons are rarely possible. In lieu of make-ups or credits, tuition for the year includes two free lessons. Zoom lessons are always a possibility if a sick student feels well enough to have a lesson. Alternatively, a student may send a video for feedback if a lesson has to be missed. Any lesson cancelled by the teacher will be made up. On days when travel is not possible due to weather or quarantine is necessary, lessons will move to Zoom.
Termination of Lessons
Parents must give 30 days advance notice to terminate lessons. Students who fail to notify the teacher 30 days in advance will be billed for an additional month. No refunds will be given for payments already made.
Summer
Students are encouraged to continue lessons through the summer which are offered a la carte and billed a the beginning of each summer month.