Good God, it took me a long time to get this thing out. Last weekend was my last trip with Sandra and Joe for a while and it was the longest trip yet. Woooosh!  Here we go:
Friday:
I met Sandra and Joe at Sandra's apartment where we hopped into a car and headed to the Airport. The handsome, easy-going and notably good-smelling Ari (if  I recall his name correctly) eased us through Manhattan in a swanky Mercedes of some kind. Sandy was keeping track of Serena Williams' U.S. Open scores on the way there and cracking us up with her ranting and raving. I have never encountered anyone with the ability to pace like a lunatic whilst sitting in a moving automobile– until now, anyway.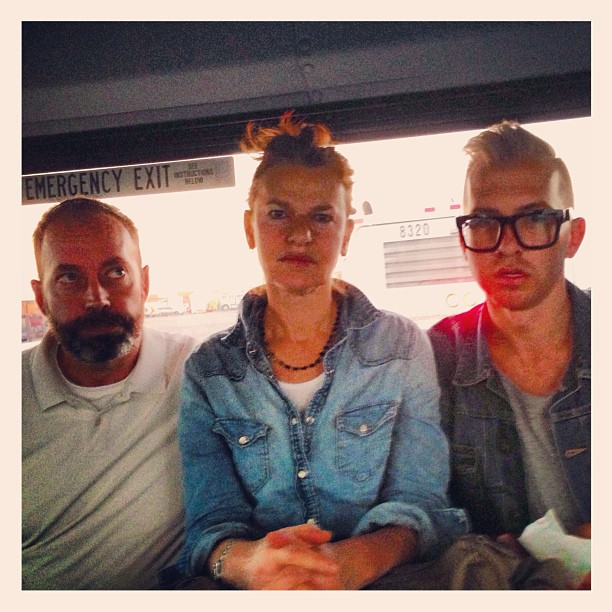 Our  flight to Columbia, South Carolina was delayed, but the time in the the airport was actually a hoot. We made a couple of new friends who were waiting too. Ugh. I need to make note of names next time. After about an hour of delay we had a gigglly shuttle bus (?) journey from the gate to the small plane. We had a pretty uneventful flight to SC, easily got our rental car, checked into the super cute Sheraton hotel and ran over to dinner at Rossa Trattoria Italia for a spectacular dinner. The chef created a special vegan dish for me using a bounty of local and organic vegetables. It was really, really exceptional. We were all pretty exhausted from traveling all day, so  we headed back to the hotel and went to bed.
Saturday:
Saturday was a pretty easy day. We had Breakfast at Café Strudel, and were again struck by how friendly everyone was in Columbia. My good friends Chris and Carey were in town to visit Chris' boyfriend Paul, so I spent most of the day with them while Sandra and Joe checked out the city. We all met back at the hotel, checked out and headed over to the Koger Center for sound check.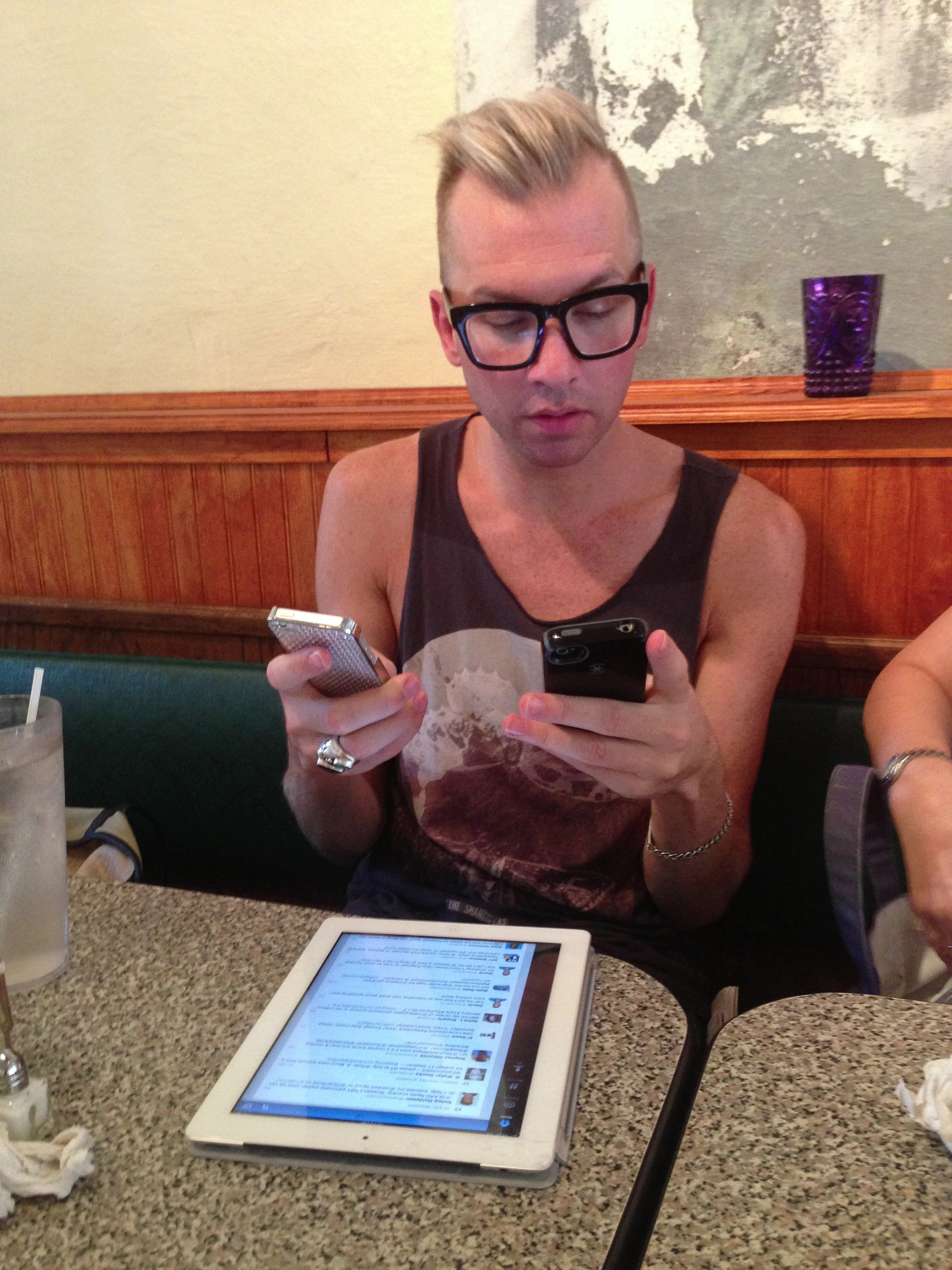 Because Sandra and Joe needed to be at a meet and greet after the show, my friend Chris stepped up and agreed to run the merch table, which went off perfectly. The show itself was pretty great, the intimate crowd was right on the ball with Sandra's references.
We wound up loading up the car and heading for Savanna around 10:15 or so. Joe drove like a (cautious and safe) bat out of hell and got us to Savannah right around Midnight.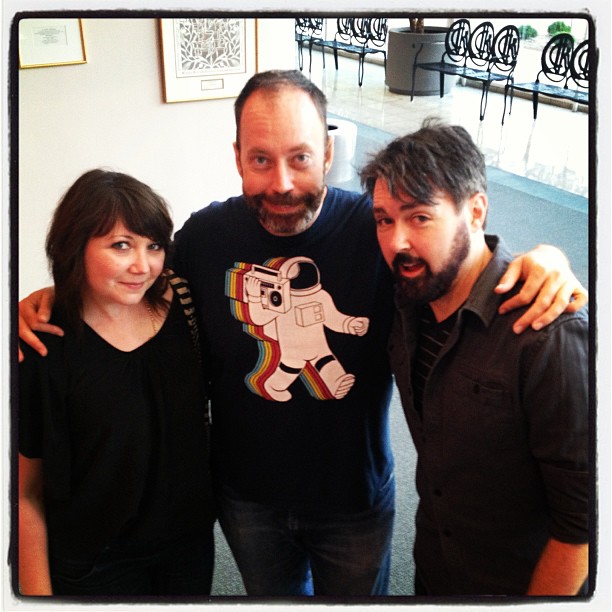 We pulled up to the hotel in Savannah at around 12:15 Sunday morning. The building was actually locked but a kind gentleman sporting a flaccid pizza box shuffled to the door and let us in without comment. We found our way to the front desk and while Joe checked us in, Sandra and I waited by the elevator and enjoyed the parade of drunken residents of the hotel, a good handful of them making glassy-eyed double takes when they recognized Sandra. Joe gave us Sandra's key and I rode up to her "suite" with her to get her settled. Just as we were getting on the elevator, a woman in a halter top/dress combo and gemini tattoos on her shoulders shuffled out and seemed to recognize Sandra. We proceeded up to Sandra's room.
The hotel's signature aroma was more pronounced on Sandra's floor, and being new to this whole touring thing and not knowing what to expect I decided to reserve comment and follow Sandra's lead– perhaps a throwback to an old job I had as a waiter in Houston where a manager yelled at me for "acting hot" because it might alert our patrons to the fact that our air conditioning was out and it was over 90 degrees in the restaurant. Sandra kept it simple, an understated, "Oh no, honey. Uh-uh" under her breath as we approached her room.
Even by my decidedly low-standards, Sandra's particle board and burnt umber burlap themed  suite was disgusting.  The dank smell was more pronounced than ever, prompting Sandra to say, simply, "We can't stay here, let's go."
We headed back downstairs to discover that Joe had already gone up to his room. I tried to call his cell phone while Sandra talked to her new friend, The Woman With The Gemini Tattoos. Now wielding a rather desperate looking turkey wrap, the woman told Sandra how magical it was for her to meet Sandra Bernhard on this, her wedding night, because she and her sister (who was in the room upstairs, presumably kickin' it with the happy groom) had been through quite a lot in the last year and to get through it, they had relied on watching Roseanne. 
Honestly, that really was a sweet story, now that I retell it, and I was stunned at how sweet Sandra was in the situation. Things were already feeling disastrous, it being the middle of the night in a strange city with no place to stay. Sandra chatted with the inebriated gemini lady and gave her a hug. I can't imagine myself being so kind in the same situation.
The management at Club One went out of their way immediately to fix the situation.  The manager literally ran down the street from his post at the club to meet us at the hotel, and the club's owner met us soon after at the spectacular Andaz hotel. While our arrival in Savannah was less than ideal, those guys really went out of their way to make it right.
Sunday
I woke up pretty early and decided to go out in search of a solid vegan breakfast. I wound up at The Sentient Bean after a walk through downtown Savannah and beautiful Forsyth Park. The Bean was just my kind of place and it was so nice to have a calm breakfast after such a crazy night and couple of days of traveling. The rest of that day stayed pretty calm. Sound check went easily and the afternoon show was my favorite of the shows I've been a part of so far. The audience was right on and so was Sandra. Really fun show.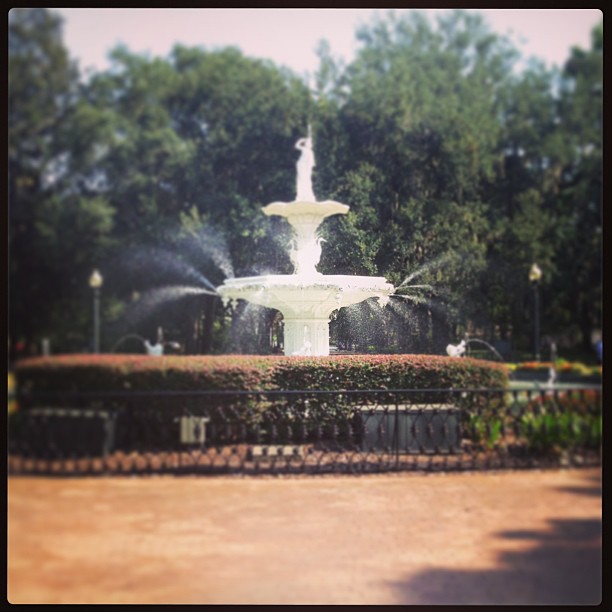 I joined Sandra, Joe and a bunch of friends for a dinner at Cha Bella with Bobby Zarem (who I should have googled before dinner instead of after. Google him now and be amazed). Dinner was fantastic and a whirlwind of amazing conversations. I almost skipped out on dinner, but I am SO thankful I didn't. It was great. Among the people at dinner were T Cooper whose book, Real Man Adventures I am reading and highly recommend.
Monday
We checked out of the hotel and headed to the airport without incident. We met a really great lady named Joan in the airport. She was so sweet and meeting her touched me in a really tangible way. Her story reminded me of having lost my mom last year, and brought me a sort of sad gratitude for the fact that we are all here on this planet for a short time. It's so sad to say goodbye to the people we love when we have to, but what a gift that we are here now with the ability to affect and be kind to one another. #blessed. I really mean that one.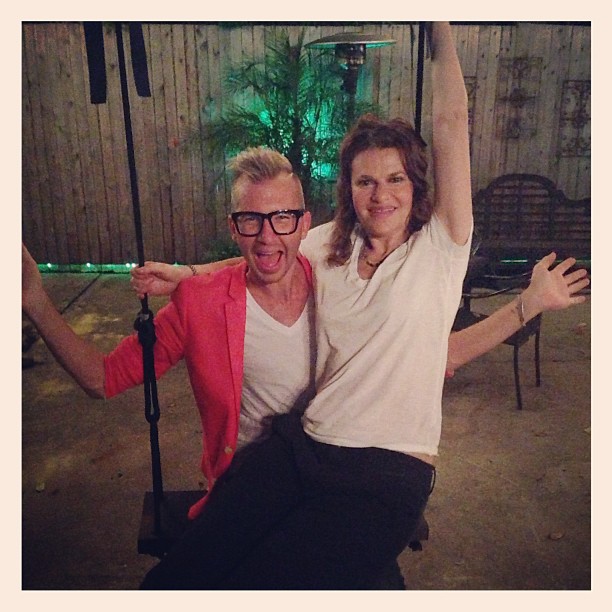 I'm just booked to play one more round of shows with Sandra in Natick, MA on Oct 17 and 18th, so obvs, no more SandyLand diaries until then. Just under two weeks till my solo show, so I'll commence to freaking out about that now. Get your tickets here if you haven't already!