I saw Without You I'm Nothing on the big screen when it was released in 1990. Some of my much-hipper-than-me friends were raving about Sandra Bernhard and how we had to go see it, so I signed up having no idea what to expect. I was around 21 years old and green in so many ways — having spent most of my teenage years in East Texas, so it's funny that the film informed me culturally in a sort of backward way. For instance, at that time I had never heard much from Nina Simone. So, while I appreciated Sandra's rendition of "Four Women" in the film, it wasn't for a couple years when a boyfriend turned me on to Nina Simone and I heard the original "Four Women" and had a tremendous A-HA! moment that sent me right back to the film to reconnect with the cultural references I had missed the first time around.
In a similar way, my life is folding back on itself and I just finished my second road trip and weekend of performing with Sandra some 23 or so years later. I'm so happy that the new reality of Sandra Bernhard as car cohabitant and the person with whom I sit on stage has begun to take the place of Sandra as that famous artist I have been following for most of my adult life. Not that I was particularly star-struck (okay that might be a lie) but it was a little surreal at first and it's really fun to be in "we're all humans here" world.
We headed up to Helsinki Hudson Saturday afternoon from Sandra's apartment with tour manager Joe Hubrich at the wheel. The drive was much easier than the previous weekend's trip to the North Fork. We got to the club at around 5:15 just in time to do a sound check and have a quick rehearsal to iron out a couple of changes to one of the songs. As a musician I can be a little timid about performing music that isn't written down note for note and performed the same way every time, so my prep for this gig with Sandra and her willingness to try new things on stage has really opened my eyes to the fact that I can handle myself pretty well in that setting. It's a little nerve-wracking but also exhilarating to approach the part of a song we changed up just a few hours before and just go with it. I am psyched to be pushed out of my comfort zone and growing as a musician through this.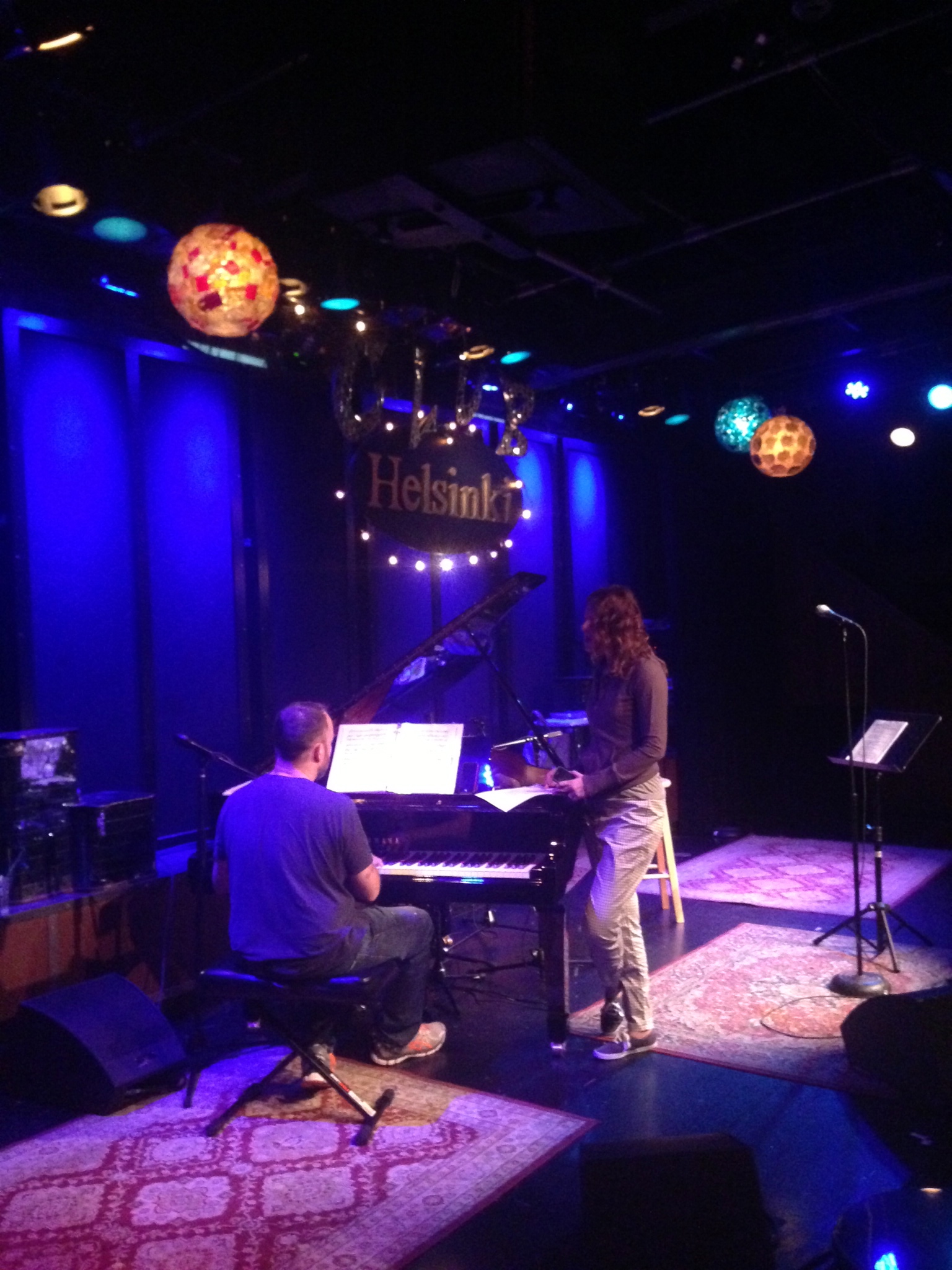 The Staff at Helsinki was great. Erica was on hand to make sure we had everything we needed and made us feel perfectly taken care of. Pete ran the sound flawlessly and the space itself was pretty spectacular. I fell immediately in love with the Yamaha baby grand piano. Musty Chiffon warmed up the sold out crowd (which included my sister, brother-in-law, BFF Ken and my Aunt Judie and Uncle Kevin). The show itself was solid and the crowd was really fantastic.  Since I was staying the weekend with my sis and bro-in-law, I said goodbye to Sandra and Joe after the show and proceeded to have a relaxing weekend in Chatham, NY amongst deers and shit like that.
I'm already feeling a bit sadzies about this coming weekend in Columbia, SC and Savanna, GA being my last with Sandra until Oct 17. The timing is perfect however, as it leaves my schedule open for writing and rehearsing new material for my solo show, Tentative Armor which I'm performing again on Sept 28th. (Get your tickets here so I can pay my string players!) I met with my director Adam Fitzgerald last night and I'm officially getting down to business. Writing a couple of new pieces for it and continuing to flesh out the orchestrations. So much to do, but so excited.
Sidenote: Adam's current show, The Awake, got this absolutely STUNNING review in the New York Times. I was already proud to be working with Adam, but this just pushes it over the edge. The show stars 30 Rock's Maulik Pancholy and is running for at least one more week. Check it out if there are still tickets available.
Finally, I'm sending out my monthly newsletter in the next couple of days and it will include a free download only available there. Sign up for it here.
Thanks for reading all of this and as always, thank you for supporting my work!